In the 8th edition of US in Progress powered by Papaya Films Wroclaw industry program (October 24-26th), taking place in the frame of the 9th American Film Festival, 4 projects were presented. All were eligible for the post-production in-kind awards (post-production services sponsored by the partners of the program).
The following prizes were awarded to US in Progress participating projects:
- 50% on VFX from Orka Studio, free registration for Producers' Network at Cannes Film Festival go to Crestone by Marnie Ellen Hertzler (with producer Riel Roch Decter);
- music composition from Soundflower composed by Maciej Zieliński and television rights offer from Ale Kino+ go to Initials S.G. by Rania Attieh & Daniel Garcia (represented by Ivan Eibuszyc);
- Once Upon a River by Haroula Rose receives free deliverables and color grading from Fixafilm and credits design from Orka Studio;
- Knives and Skin by Jennifer Reeder receives creative sound design from Soundflower, color grading from Coloroffon Film, 50% on VFX from Orka Studio and return flight to Poland from Papaya Films.
The awards execution will be negotiated with project producers individually on the basis of the studio's availability.
Besides presenting the projects to the professional audiences, the producers of the above projects took part in one on one meetings with European festival programmers, sales agents and distributors as well as less formal meetings. 2018 edition of US in Progress powered by Papaya Films included presentations of 4 Polish projects seeking American partners as well as discussion panel on the successes and challenges of coproducing with Europe with the participation of producers: Sara Murphy, George Rush, Ryan Zacarias, Guillaume Benski and Ivan Eibuszyc. Adam Mickiewicz Institute, Lower Silesia Film Fund as well as Polish Film Institute, and other partners' presentations gave insight into collaboration opportunities with Poland, including the diversity and availability of funds, locations and talent. A tour of Wroclaw locations complemented the Polish-American Producers' Forum.
Congratulations to all the participants and many thanks to the partners and attendees!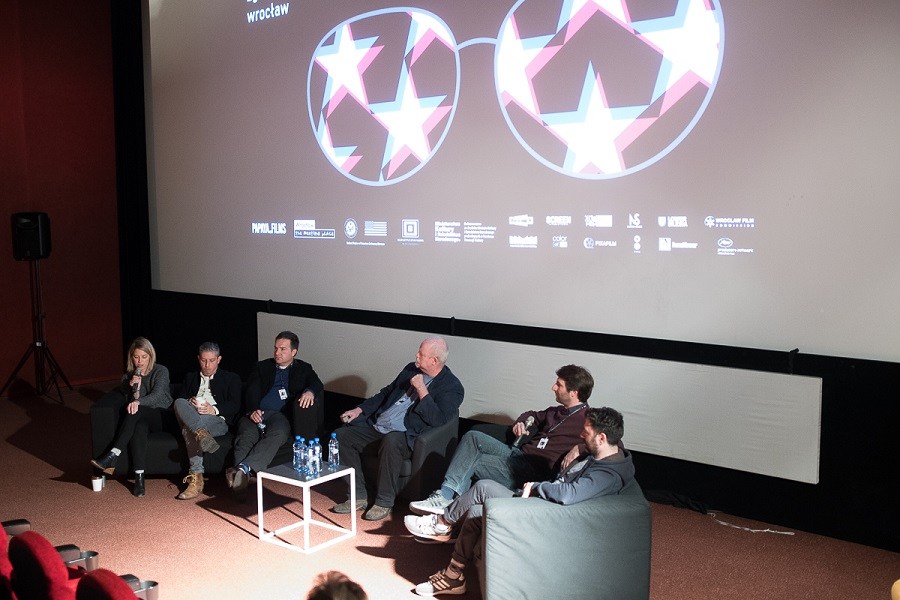 ---